Till Death Do We Part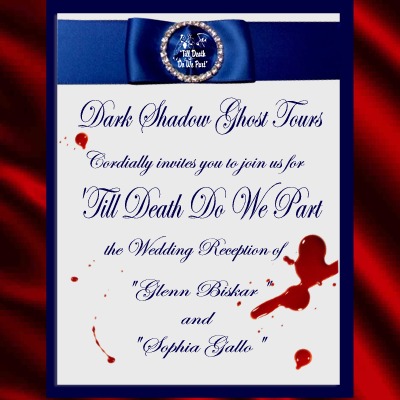 You are invited to the wedding reception for Glenn Biskar and Sophia Gallo; however, this is not going to be a normal wedding reception simply due to the fact that someone will be leaving the venue in a body bag. Sure there will be the receiving line, the toast to the couple, and cutting the cake, but the reception turns once the murder takes place.
The evening will begin as you check-in at the reception; you will receive your table assignment and will be able to greet the bridal party. Then you will be able to have your picture taken (no additional charge) by the couple's wedding photographer, after which you will be able to get your buffet style dinner and settle in at your table.
Throughout the evening, you need to pay attention to the bridal party and the family for clues as to who did it, why they did it, and how they did it. At the end of the evening, you will have the chance to help the detectives solve the crime. Those who have solved the mystery correctly will be entered to win the grand prize.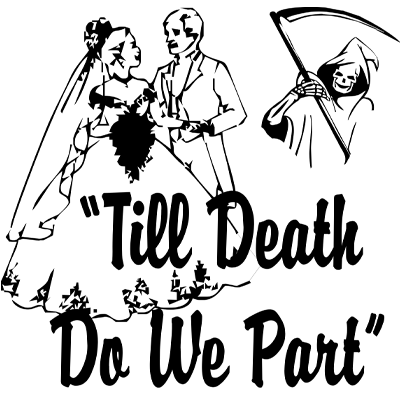 Meet the Cast
Father of the Bride:
Dominic Gallo is a handsome 58 year old self-made millionaire businessman who made all his money in the wine business. He owns a dozen wineries throughout the world. His net worth is about 750 million dollars. He loves his daughter Sophia more than anything else in the world. He has been divorced from his wife Sheila for 15 years, but still keeps in contact with her for his daughter's sake. He dislikes his future son-in-law, Glenn and wishes that Sophia had never met him.
Bride:
Sophia Gallo is a 28 year old beautiful, well-educated woman with Bachelor and Masters Degrees in Chemical Engineering from MIT and is being groomed to take over the family business. She loves her father, but is deeply in love with her new husband, Glenn Biskar and wishes that her father and Glenn would get along better.
Mother of the Bride:
Sheila Smith-Gallo is a 57 year old ex-wife of Dominic Gallo. There is no love lost between her and Dominic and she would like nothing better than to see a break-up between him and his new lover. She is not particularly close to Sophia and has an unnatural dislike of Glenn.
Groom:
Glenn Biskar is a 29 year old very handsome man; however, he is a playboy and fortune hunter. He has never met a good looking woman that he didn't like. He likes Sophia, but loves her money even more!
Girlfriend of Dominic Gallo:
Doctor Angela Colombo is a renowned oncologist as well as a beautiful 49 year old woman. She and Dominic met through her work and she is very much in love with Dominic. Angela cares very much for Sophia and wants her to be happy. She however, has some deep concerns about Glenn because she suspects what kind of man he truly is, which is not the best kind.
Maid of Honor:
Gigi DeMartino is a lifelong friend of Sophia, but has had bad luck with men. She lives out of town now and was embarrassed to come to the wedding without a date. Who is this guy she is with at the wedding? She knows Glenn is a bum, but has never discussed her feelings with Sophia for fear of losing her as a friend.
Best Man:
Sean McCormick has loved Sophia for years, but she sees him as a brother. Sean has known Glenn for years and went to school with him at YSU. He knows Glenn only wants Sophia for her money and has thought about telling her, but he fears she would never talk to him again.
Gigi's Date:
Richard Gears is a 30 year old, very handsome and debonair man. He is smooth as silk and skilled in the art of seduction. Something about him hints at a dark past!