Mystery at the Workshop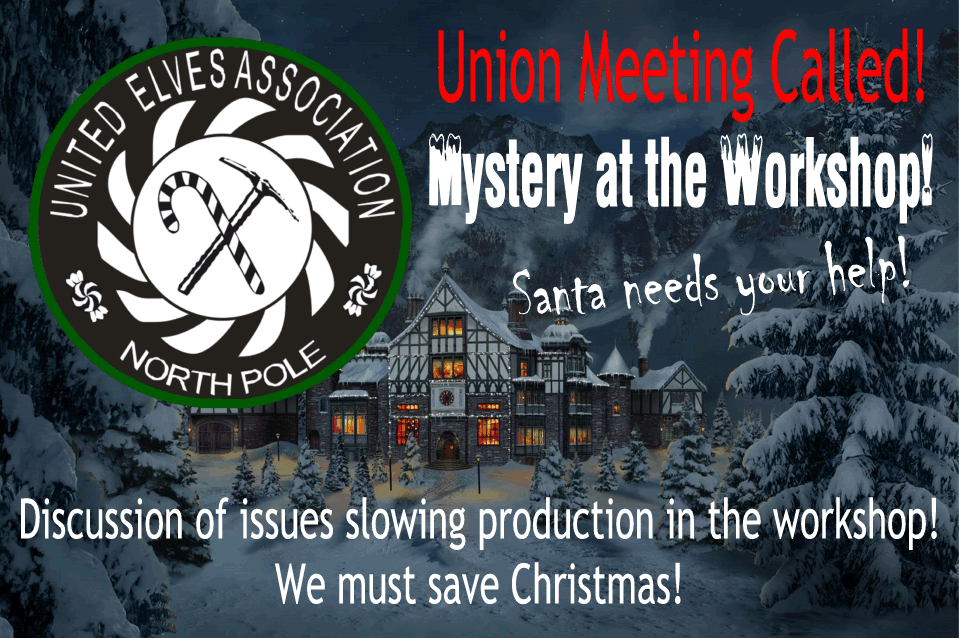 Santa has a problem this year, and he needs your help. He is in jeopardy of falling behind and not making his deadline for the delivery of gifts to billions of children in the world. Something or someone keeps sabotaging the workshop and there have been several delays which have made the workers miss several deadlines.
Machines have broken down, tools have been moved or misplaced, and supplies have come up missing or have even been changed. He hasn't had this many problems since the late 1800's.
Santa and Edward Hinklemyer (Head of the Department of Elfland Security) has called a special union meeting to get to the bottom of all of these issues. Each department is asked to have representatives present and to state their case and issues to the investigative board. At the end of the meeting you will be asked to help solve the Mystery at the Workshop.
Meet the Cast
Edward Hinklemyer: Santa's Chief Elf and Head of Elfland Security
Edward Hinklemyer, who is sometimes called J. Edgar by some of the other elves, is an effective, calculating, and serious investigator with highly developed problem solving skills. He will not stop until he solves the problems he is working on at the current time.
Tim "the tool" Taylor: Chair-elf of the Workshop Toy Craftsmen Division
Tim Taylor is a highly schooled craftsman even though he is only a 250 year old union member. His expertise includes assembly, electronics, toy design, animation and much more; however many elves question his freakish height of 5"6". Tim is driven, but absent minded, and domineering with a chip on his shoulder.
Bituminous "Pickaxe" Mineral: Chair-elf of the Craftsman Coal Miners Division
Pickaxe is a young elf for holding such an important position in the union. He is larger than most elves, with exceptional strength and stamina. He is also serious, imposing, and grumpy like Grumpy of the Seven Dwarves; his second cousin on his dad's side. It is no secret he is not satisfied with his current position in the mines and wants to be a toymaker. Why is Pickaxe so grumpy?
Gemma "Jimmie" Hoffa: Chair-elf of Transportation Division
Jimmie is a saucy, intelligent, ambitious, sometimes bitter feminist-elf. She has risen from the entry level transportation position to the lofty position she holds today. She is suspected to have loose morals for an elf. It is said that Gemma has more than one boyfriend.
Merry Hallmark: Chair-elf of Wrapping Paper Factory Division
Merry is artistic, crafty, and precise. She has designs on marrying Tim Taylor. Her efforts have been ineffective because of the lack of face time she spends with Tim due to the amount of time she spends in the wrapping paper factory.
Jackson Frost: Spokesperson for "The Assembly of Legendary Figures" (for this meeting)
Jackson has never been seen as being trustworthy and has never been a vocal supporter of Santa Claus. He has in-fact been viewed as a strong critic of Santa and has been heard suggesting that it is time the big man retires.
Elizabeth Crocker: Chair-elf of the Candy Cane Factory Division
Elizabeth Crocker is a very ambitious elf and sees her current position a stepping stone to bigger and better things. It has been rumored that she is leaning toward aligning herself more closely with Jackson Frost.
Jonny Hannah: Chair-elf Reindeer Stables
Jonny Hannah is not happy with his lot in life. Even though he loves all animals, he dreams of having a more visible position in Santa's Village and feels that many of the Craftsman elves look down on his position.